COVID 19 Safety Measures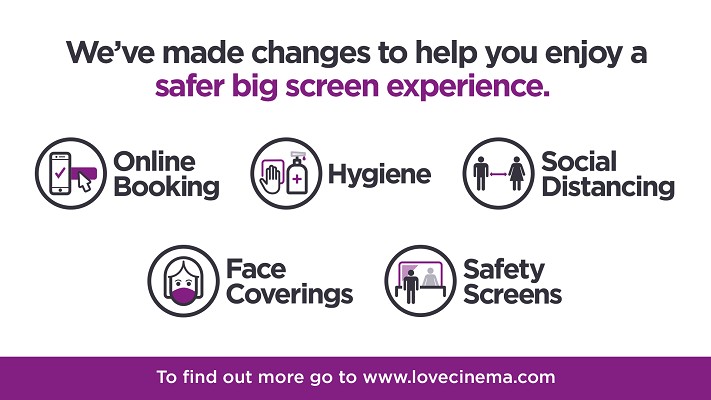 Coronavirus (COVID-19)
Savoy will be implementing procedures within our cinemas to limit the spread of the coronavirus Covid-19.
At Savoy our priority is the safety of our customers and employees. We will be following all government guidelines and regulations.
Please do not come to the cinema if you feel unwell or have any symptoms of COVID 19.
Social Distancing
Social Distancing measures will be in place across the cinema, in the screens our booking system will ensure that a safe distance between different households are maintained in the auditorium.
Face Covering
Please ensure you wear a face covering when you come to the cinema. This will need to be worn at all times, except when eating and drinking in the auditorium.
Additional Cleaning
Alongside our existing routine, additional cleaning will be implemented using antibacterial spray and sanitiser throughout the cinema concentrating on high touch areas. All screens will be sprayed with an anti-viral solution after every show.
Hand washing and Sanitiser
Strict hand washing guidelines will be issued to all employees, with hand sanitizer stations in all cinemas for both customers and employees
Till Points Plastic Screens
These have been added at the till points where social distancing cannot be maintained.
E-ticketing & Contactless Payment
Advance booking will be advised via our website and the booking confirmation will include a QR code which should be presented at the ticket check point. Where advance booking is not possible, we'll be encouraging contactless payment.
Staggered Film Times
Film start and end times will be staggered to reduce cinema crowding with additional cleaning time added between films.
Training and PPE
All Savoy employees will receive COVID 19 training and PPE will be provided in line with government requirements.
Our staff members will be on hand to offer assistance and answer any customers enquiries to ensure we are offering the highest levels of customer service and safety.
Thank you for your support with these measures.
Savoy Cinemas Ltd Coronavirus / COVID-19 updated: 14/08/2020